Mohamed Sanu knew three things about his son, M.J.
The first two go hand in hand - M.J., now eight years old, is athletic and good at football. The third is personal preference from Sanu: he wanted his son to be trained by an outside source.
Sanu, who spent four of his 10 NFL seasons with the Atlanta Falcons, was recommended to visit Legacy Sports Complex, which is run by mixed martial arts fighter Dustin Chovanic and former Atlanta Braves pitcher Jonny Venters.
In the weeks that followed, Sanu took M.J. to Legacy, a growing brand in Suwanee, Georgia. The rest is history.
"I started noticing how many kids are in there, and I overheard Dustin talking about investors," Sanu told Sports Illustrated's Falcon Report. "I reached out to him (and) got in the door."
But Sanu didn't stop there. He was focused on enhancing life after football and began reaching out to past teammates in similar positions.
Sanu pondered options and reached out to one of his workout partners, Christian Blake, an old teammate who played receiver for the Falcons from 2019-2021 and was still training to stay ready for his next opportunity.
Blake was intrigued and decided to visit Legacy. He was given a warm welcome and needed nothing else to join.
"(Sanu) is like, 'I'm teaching class,'" Blake said. "And I'm like, 'What?' I finally pull up, come in the door, and this isn't just any gym. They stopped class, like, 'Welcome Christian Blake,' showing love off-rip. Watching the class and how everything operates, I was like, 'Wow, this is really cool.'"
Sanu continued recruiting, this time turning to former Falcons linebacker Sean Weatherspoon. Like Blake, Weatherspoon was actively preparing his body should he get a call from an NFL team.
Weatherspoon hadn't met Blake when the two convened at Sanu's house over Memorial Day weekend. They hit it off instantly, and Weatherspoon visited Legacy in the days that followed.
When he walked in, Weatherspoon instantly noticed the presence of Domino's pizza and the parents watching their children. He knew he wanted to be a part of it – and create change within the next generation.
"That vibe from the Legacy group," Weatherspoon said, discussing his first impressions. "We want to bring positivity to the group, knowing we can help them grow up."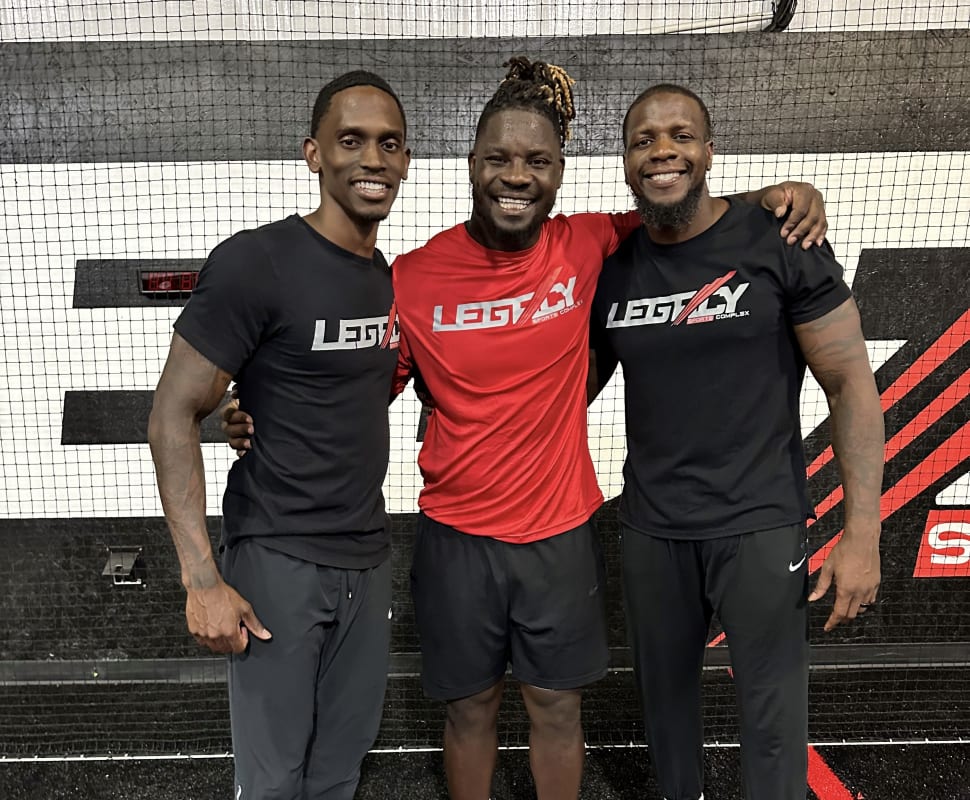 Former Falcons offensive lineman Elijah Wilkinson is also involved, though to a lesser extent as he's still playing with the Arizona Cardinals.
Legacy officially opened Jan. 2023, Sanu joined weeks later, and Blake, Weatherspoon and Wilkinson have since followed suit. They've helped expand a company that prides itself on being a one-stop shop for training services.
Specialized training is provided for several sports, including football and baseball. There are weight room areas, therapy sessions, a medical staff with doctors and surgeons and much more.
In short, Legacy's more than your average gym.
"Everything that you need is there," Sanu said.
Legacy prides itself on being a safe space for each of its athletes, searching to establish a familial aspect. There after-school programs, and Legacy will pick kids up from school if needed, doing everything in its power to alter lives.
Related: EXCLUSIVE: Falcons Ex Matt Ryan Helps Empower Youth - 'It's Always Atlanta'
The operation values parental involvement and has workout opportunities for caretakers while their children receive hands-on training. It's a priority to learn parents' names, only adding to the family-oriented culture.
Suwanee has welcomed Legacy with open arms – and the two are now synonymous with one another, forming "a staple, a nucleus," within the community, per Blake.
---
Weatherspoon's mom, Elwanda, was a teacher. He grew up with a clear picture of what went on in classrooms and how students learned best.
Following in his mother's footsteps was always a consideration. Being a leader in Atlanta's locker room only enforced this, as he was prompted with teaching each incoming class of rookies new principles.
Lack of teaching background aside, past lessons learned from the NFL have helped Sanu and Blake figure out their way around training sessions.
They were motivated by the sensation to do the right thing for society … and are enjoying the twists and turns Legacy's brought them.
"It's never like it's work," Sanu said. "It's something you look forward to go to."
Building discipline and respect is a key aspect of Legacy's goals. It stems from Chovanic's martial arts background and is quickly recognizable – Blake said he instantly heard "yes sir's" when he walked in for the first time.
The athletic training is just as easy to spot.
Sanu, Weatherspoon and Blake all pointed to a five-year-old student named Ace as a prime example of the significant development Legacy provides.
"Ace couldn't walk straight without falling," Blake said. "But now, Ace can do all the drills, he's catching the ball. He's probably the top kid in his class."
Legacy is changing its athletes' personalities as much as their playing abilities. The organization is faith-based, attempting to build a stronger religious community while growing closer to God.
There's also a focus on preaching mental growth. Many athletes are talented, but one's mindset often proves to be the difference between success and failure.
And for as many body-related training facilities as Legacy offers, it's possible the mental work takes on even more significance.
"We harp on leading with the right mind," Blake said. "The mind can lead you where the body can't."
The next step for Legacy is extending its output across the country. Sanu recently took a trip to his home state, New Jersey, with eyes towards adding a location in the northeast. There have also been talks of putting companies in Florida, California and Chicago.
Legacy's been aggressive in its pursuit of expansion, and while it already presents itself as a versatile option, won't shut the door on any future additions to its structure.
But for now, Legacy's contributors are satisfied with what's been accomplished in such a short time. It's not just about athletic growth, but the development of better individuals.
And with the cast of instructors assembled, Legacy's just scratching the surface of what it can be.
"Everybody says they want success, but when it comes down to it, it's like, 'today's Halloween or yesterday I worked really hard,' like no, we harp on that mindset, the grind," Weatherspoon said. "And what's so different about the gentleman that we're talking about – myself, Christian, Mohamed, Dustin, Jonny Venters – we've seen the other side. We know what it looks like."
By pairing the state-of-the-art facility with proven athletes motivated by society's greater good, it's no wonder Legacy's enjoyed early success.
And this trio of Falcons, with their playing careers seemingly in the rearview mirror, are focused on building brighter days in their new livelihood – while helping the Legacy organization do the same within communities across the country.
"There's no telling where our brand can go," Blake said.
Moments later, Sanu announced his departure. He was looking for his wallet and keys with a clear destination: 4305 Brogdon Exchange NE, Suwanee, GA 30024.
Or, in simpler terms, Legacy Sports Complex, energized and ready to roll for another day of "work" - even if it doesn't feel like it.