GlobeNewswire
Topper by Uphold Integrates Apple Pay and Google Pay as Additional Payment Methods

News provided by
Uphold
Nov 21, 2023, 11:00 AM ET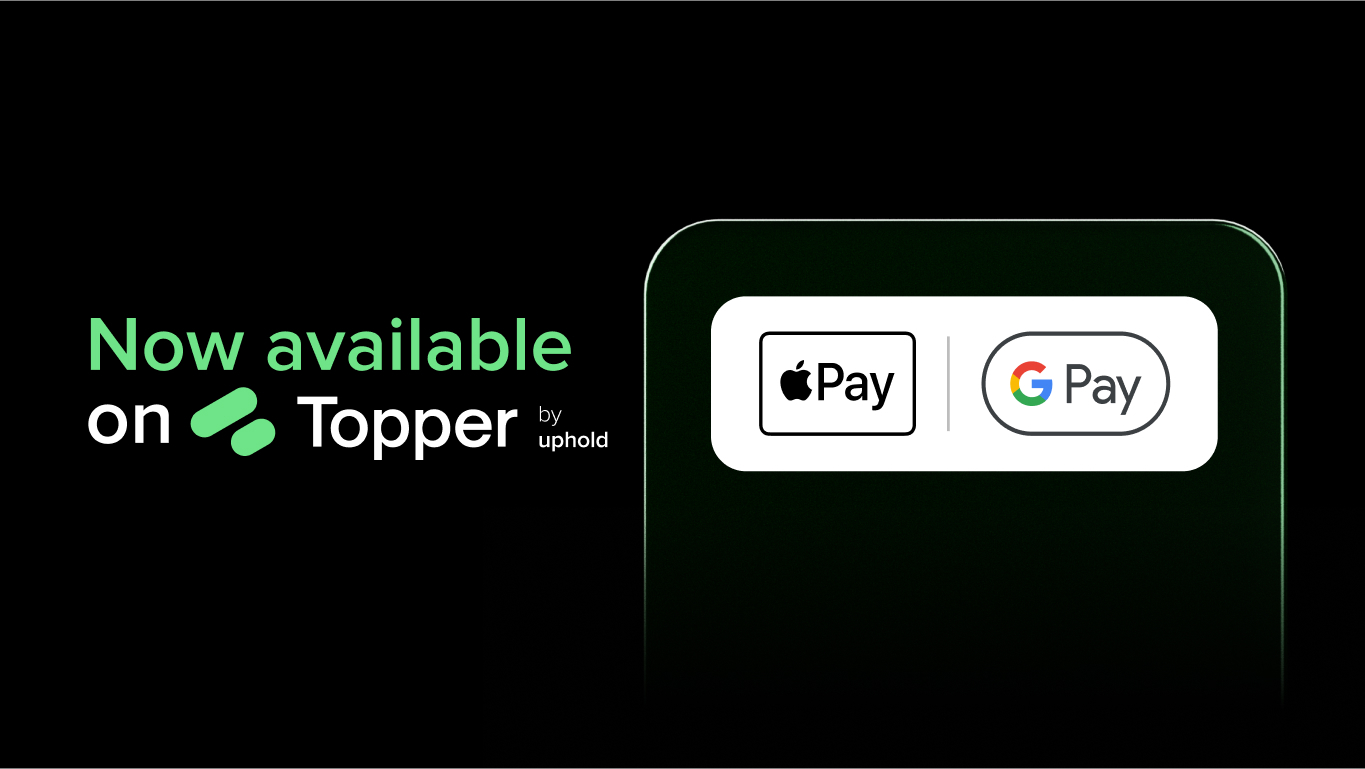 SAN FRANCISCO, Nov. 21, 2023 (GLOBE NEWSWIRE) -- Uphold, the global web3 financial platform, announced today that Topper, Uphold's fiat-to-crypto on-ramp, has added Apple Pay and Google Pay as a payment option for users. This expansion facilitates faster and more convenient transactions across Topper's extensive selection of over 200 digital assets.
Web3 adoption faces hurdles like limited accessibility and user-unfriendly features. Topper's adoption of Apple Pay and Google Pay eases these challenges, making it simpler for users to buy digital assets.
"Integrating Apple Pay and Google Pay represents a transformative step for our community of Topper users," said Robin O'Connell, CEO of Uphold Enterprise. "For the estimated 600 million individuals who use Apple Pay and Google Pay, Topper makes digital asset buying simple."
Apple Pay and Google Pay integration advantages include:
Mainstream adoption: Topper's integration accesses a larger user base, inviting more to engage in cryptocurrency.
Enhanced web3 experience: Familiar payment methods offer users a smoother transaction experience.
Simplified Payments: Including well-known web2 options eases cryptocurrency and lowers barriers to entry.

Apple Pay and Google Pay are among the two most popular digital wallets, creating a great opportunity to onboard those consumers who are looking for an elevated web3 payments experience they are more familiar with as they explore how digital assets and the web3 economy work. To find out more, check out www.topperpay.com/.
About Topper
Topper, the easy fiat on-ramp with higher approval rates, is an easy-to-implement Web3 payment tool that lets crypto projects process more of their customers' payments - supporting twice as many digital assets than its competitors. The Topper payment widget is built to simplify the payment process, accept more currencies and deliver higher approval rates, resulting in fewer declines and more revenue. Developed by Uphold, the Web3 financial platform, Topper is a reliable, regulated and trusted payment system.
About Uphold
Ranked #1 in the San Francisco Business Times Fast 100 List, Uphold is committed to making web3 easy. As a web3 financial platform, Uphold serves over 10 million customers in more than 140 countries. It provides businesses and consumers with easy access to digital assets and services. Uphold's unique "Anything to Anything" interface gives end users seamless access to and between digital assets and national currencies and precious metals. Uniquely, Uphold smart routes orders across 30 trading venues delivering optimal execution and superior liquidity to customers. Uphold never loans out customer assets and is always 100% reserved. The company has pioneered radical transparency and uniquely publishes its assets and liabilities every 30 seconds on a public website (https://uphold.com/en-us/transparency).
Uphold is regulated in the U.S. by FinCen and State regulators; and is registered in the UK and Canada with the FCA and FINTRAC respectively and in Europe with the Financial Crime Investigation Service under the Ministry of the Interior of the Republic of Lithuania. To learn more about Uphold's products and services, visit uphold.com.
For media inquiry
Jo Hunt
jo@serotonin.co
Lauren Bukoskey
lauren@serotonin.co
A photo accompanying this announcement is available at https://www.globenewswire.com/NewsRoom/AttachmentNg/4c56a106-69ac-47ac-a379-1e93fece2853.


NOTE: This content is not written by or endorsed by "WSAV", its advertisers, or Nexstar Media Inc.
For inquiries or corrections to Press Releases, please reach out to GlobeNewswire.